📗 Guide #1: Brand Strategy 101
Where to begin: The ultimate starters guide to creating your brand strategy, whether you're in business or agency.

Welcome to your Anthro journey!
This guide is your roadmap to amplifying your business success through your brand. It's your guide to understanding the elements that make up the best brands, and how to take your own business or client on this journey. This is the *how*.
Welcome to Anthro!

Sanya 😊
---
Bring a friend or colleague on the journey! Share this guide and let's create a world of better brands that put humans first!
---
Here's what this guide covers:
Brand purpose and mission statement

Target audience

Landscape and competitor analysis

Platform and content

Measurement and reporting

Planning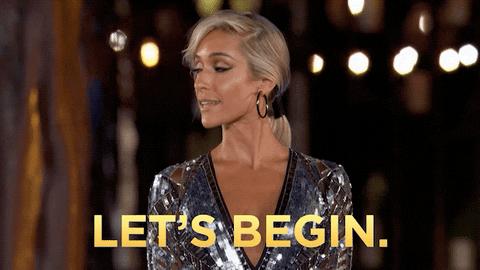 ---
1. Brand purpose and mission statement
What even is a brand purpose?

There you go. It's really as simple as that. In Anthro content and resources you'll sometimes see brand purpose as "brand essence". It's a nice way of articulating that it's what your brand boils down to, your raison d'être. Why you're business is doing what it's doing. What is the point?
This is your starting point for all of your brand and business decisions. The best brands use this information as a guiding north star.
Ideally you should articulate your purpose as a sentence or two. To do this, you can explore all the elements that influence what you're doing and summarise that to create your purpose. For example, explore the industry you're playing in, the tensions you're trying to address, culture and your business offering.
Once you have this you can work on your mission statement and value - these are slightly longer pieces that build on your purpose.
This diagram from Brand New Purpose might help you visualise: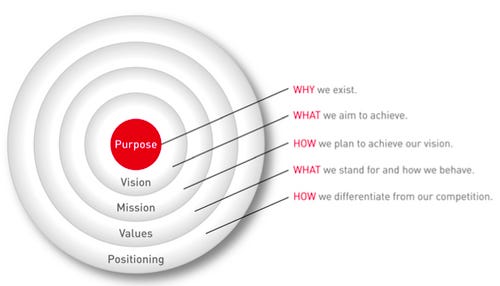 Actions:
🖋 Do: Define your raison d'être and write it out in a short snappy way

🖋 Do: Build on this to create your mission statement - focus on actions that you will take to achieve and live your purpose

🖋 Do: Use these to create your values, a set of 5-10 principles that guide you is a good place to start. Think about your way of working, your internal culture

📄 Read: Defining and activating your brand purpose - Branding Strategy Insider

📄 Read: How to make a purpose-driven clothing brand - High Snobiety
2. Target audience

Now you've figured out what you're doing, why you're doing it, and how you're going to do it you need to understand who you're going to add value to and sell to make your vision a success.
In comes your target audience (or customers/clients as they're often called). You should start getting to know them inside out. If you have an audience already, get to know them. Ask them questions, analyse any data points you have and use this information to tailor what you're doing for them.
If you're pre-launch and don't yet have an audience, you can try thinking about what your hypothetical audience looks like. You can also go out and find your future audience (or people you think are it) and ask them questions.
If you truly listen to them and build for them, it will show in your relevance and business success.
Actions:
🖋 Do: Ask your audience about their needs, motivations, loves, hates and so on (psychographics)

🖋 Do: Ask your audience about their consumption habits. What content are they reading, watching and listening to?

🖋 Do: Ask them where they're from and what their budget is to start.

📄 Read: Be More Human. Learning from Oatly's Brand Strategy - Anthro Global
3. Landscape and competitor analysis

Let's be honest, you should know a significant amount about the landscape you're operating in, and the competitors already in the space. You should know this from your general reading and due diligence.
To kick this up a notch here are some ideas to help you make sure you're best equipped to position yourself and lead into your platform and content strategy (Step 4).
Actions:
🖋 Do: Read up on your industry as a whole and take notes on the state of it. Is it growing? Is it shrinking? Is it untouched and no one else is doing anything in it yet? Is it highly saturated? Is it innovative?

🖋 Do: Read up on your known competitors and take note of areas they're good at, and their weak points. Take note of any new companies you come across too and do the same for them.

🖋 Do: Take note of which social media channels and content subjects/styles are popular/successful/rubbish and use this to inform the start of your social media strategy.
4. Platform and content

Once you've done your landscape and competitor analysis, you can start building your social media plan. Yay! Have a look back at what you saw and learned from Section 3 (above) - this is a good place to start if you're confused about your social media and what to publish on it. Generally speaking the main social channels are best for the following:
👋🏽 Facebook: Very popular with people in their 40s and above, but there are some younger people very active on Facebook still. Varied subjects from personal family photos and events to closed business and interest groups where people chat privately.

📷 Instagram: People in their 20s, 30s and 40s, with some hip members of the older generations. Popular subjects on Insta range from fashion, beauty, food and fitness, and travel, to more niche ones like specific health issues and hobbies.

🐤 Twitter: Popular with all age groups. Still the place where breaking news happens. Popular for news, and industry chat: from tech to marketing to finance.

💃 TikTok: People in their teens and 20s, with some older members who are down with the kids and keeping their finger on the pulse. Subjects range from viral dance routines to health and business.

📌 Pinterest: Such a broad range of age groups and interests. You can find anything here from party and wedding planning to journaling and meditation prompts.

💼 LinkedIn: Mainly people from the corporate world of all ages. Work work work chat.

👾 Twitch: A younger audience with a heavy Gen Z dominance. However, there are highly engaged niche audiences here that focus on content related to sports and music.
Did I miss out any other main social platforms you're interested in? If so leave me a comment!
Actions:
🖋 Do: Make sure you followed Step 2! With knowledge of your target audience, you'll know where to find them on social media.

🖋 Do: And after Step 2 you should know what content they like. Use this to plan and create your content calendar.

🖋 Do: Use tools like Buffer to help you publish and streamline your publishing efforts.
5. Measurement and reporting

Okay, so you've completed stages 1-4. Now it's time to hold yourself and your business accountable and see how you're progressing. This step is important for aligning your brand and comms with your business objectives.
Some key metrics you could use:
Follower growth

Number of engagements per post

Number of interactions with high profile voices and influencers

Number of mentions by third parties and other people

Number of media mentions
("Reach" is often used as a metric for brand awareness. However, I would advise against using this popular metric as it is highly inaccurate - calculated differently by all social platforms. This metric is popular in the agency world as it make clients feel good since reach figures are usually artificially high.)
Actions:
🖋 Do: Set out your key performance indicators and metrics before you launch any campaign. It's ideal to be able to measure your work from start to finish.

🖋 Do: Check in on how you're doing at the start, (e.g. week 1), part way and at the end of your campaign… or just on a regular basis. This helps you ensure you're keeping track of your work and can pivot if and when you need to.

🖋 Do: Compare the work you've done with your brand purpose and mission statement. Are these still aligned? Analyse this qualitatively if you can't track it with numbers.
6. Planning

Hurrayyyy! You've reached the most fun part!
Now that you've built your brand online and started communicating about it for a full year (or significant period of time), it's time to use your evaluations and new learnings to start planning what to do next!
Below are some prompts to get your planning started for what you're going to do next.
Actions:
🖋 Do: Consider your key performance indicators and how you want to progress and improve these. What are your new targets? Are they the same? Lower? Higher?

🖋 Do: Go back to your brand purpose and mission statement. Have you been on track and delivering content of value that is aligned with everything your business stands for? If not, how can you make sure you do this?

🖋 Do: Think about your business goals and your brand: brainstorm some creative ideas that you execute in your marketing and comms. Ideally these ideas should serve the business and brand objectives.
Anddd BOOM! You're finished with the basics of brand strategy 🎉
If you found this helpful, please share it with a friend or colleague 😊
Thanks for taking the time to invest in your brand power. If you'd like more information, feel free to check out the Anthro resources or ask me a question in the comments:
Have a great day!
Sanya 😊
---
Note: Some links above are affiliate meaning at no cost to you if Anthro earns a commission
---
Not a formal or academic article: Anthro offers online resources based on first hand industry experience and further reading. The content is not scientific and is open to subjectivity