👀 Anthro Newsletter #002 | 👭 Brands like friends, Twitch and Béyonce's new album
Your weekly newsletter on brands, campaigns, culture and insights.
Welcome to Anthro, a weekly community newsletter featuring must read content about the best and most exciting movements by brands, with a heavy focus on culture and actionable insights. I'm trying to make this one of the most valuable emails you receive each week. If you've enjoyed this issue, please like it above 💗 and leave me a comment 💬

Good morning friends,
One week since launch and we've already grown this community to over 100 people - how amazing!? 🎉Thank you for joining me in this Anthro Community - I'm so excited to have you here and can't wait to share the most pertinent industry news and insights with you- on brands, campaigns, culture and their relationship to business success.
Whether you're the founder of a company, at a start-up, in an agency or in-house- this is the place for your dose of industry news.
You ready? Let's go! 🔥

Here's what you'll learn today:
Social media growth tips from the lady behind London's best girl gangs. Interview with creative strategist Emily Chappell

Why you need to pay more attention to Twitch, in Anthro Industry Analysis

Beyoncé's Black Is King visual album, and the importance of celebrity partnerships, brand exclusives and "firsts"
---
What can you learn from this social media queen about growing brands and nurturing community?

I interview Emily Chappell, London creative and social pro. You'll know her as the brains behind iconic London communities (IRL and URL) Future Girl Corp 🚺 🌐 and Her Hustle. 3 key tips from her below 👀 Read the full interview with Emily Chappell
Be personality led in your comms - human brands resonate with people ⚡ #Preach!

To grow your social following, build in phases based on your audience size. Growing from 0 to 5K requires a different strategy than growing 5K to 10K

Build conversations and content with purpose and intellectual substance. We're in a post-awareness world where added value and actionable content is powerful
Twitch, the most exciting social platform right now
Known for gaming live streams 🎮, Twitch has expanded it's verticals to focus on music and sports from the world's most prestigious dance music labels, to Premier League football. Spark notes below. 👀 Read the full Anthro Industry Analysis on Twitch
Covid-19 fast-tracked video and live streaming. Twitch offers the most reliable and engaging platform for it right now 📺 (Trumps the Instagram Live UX by miles!)

Current Twitch partnerships include record labels 🎵 Anjunadeep, dance music forefathers Above & Beyond and the Premier League ⚽, NFL, and NBA among others

If you want to utilise Twitch for your brand a) Identify if your audience is already on Twitch OR b) Consider whether you want to invest in building a new home for your audience long term 👀 Check out Uber Eats' best in class example
❤ Beyoncé's Black Is King ❤ The value of celeb partnerships, little and large exclusives
Queen Bey released her latest visual album, Black Is King in an exclusive partnership with Disney+ 💫 Only 5 months after Disney's streaming service launched in the UK, Beyoncé collaborates with them off the back of the relevance she built with Disney as the voice of Nala in The Lion King remake 🐱 The jury's still out on the ROI Disney+ gained from this new partnership.
Bey's team also worked with Twitter on a new feature taking the launch campaign's sparkle to the next level ✨ The official #BlackIsKing hashtag and the Like 💗 button on posts that mentioned it created a circle made up of two lions, in line with related album artwork 🦁 Twitter explains "Some of the best moments deserve a little spark and delight… we are testing a product that lets partners customize Twitter's Like button animation with iconic imagery that complements their campaign".
Some learnings for your brand:
Celebrity and influencer partnerships will never die. Partnerships allow both parties to utilise each other's hype and credibility- ultimately expanding both parties' audience. Who could your brand partner with❔

A tiny functionality of a digital campaign can elevate your audience's experience🔥 This works well if functionality is new, different and, most importantly fun!

Being the "first" to do something different makes a brand memorable- cited for years to come. Remember when Taylor Swift released Bad Blood and the first custom emoji accompanied the hashtag? 👀 Read Nathan Edelsburg's article on The Drum
Other interesting things 👀:
---
❔ Should you have any questions, send me a note or leave a comment. I want to hear from you! Have these insights been interesting and useful? What other content would be helpful for you to receive? Would you like to be interviewed for the interview series? Ping me! 😉
Thanks for being part of Anthro this Sunday, and see you next week!

Sanya 😊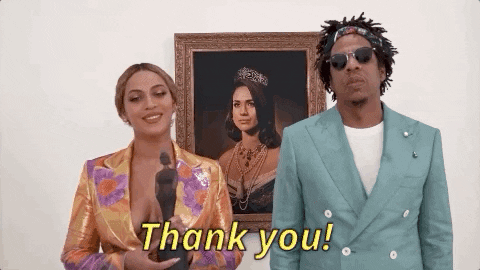 ---
If you enjoyed this newsletter, please forward to a friend or colleague and encourage them to subscribe - let's try and grow this Community to 1000 🙌🏽